MOBILE APP PRIME ART OF LIFE
This is convenient interface and easy access to a full package of concierge services and PRIME tools.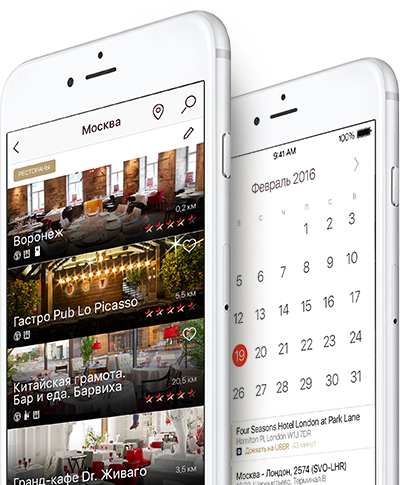 Install PRIME Art of Life mobile app and get a twenty-four-hour access to a full package of concierge services.
- Your boarding ticket
- Confirmation of hotel booking
- Status of requests and history of expenses
- An option of payment for PRIME services via your phone
- Instant chat with an assistant
- Message/Telegram synchronization
PRIME Art of Life is convenient interface and extended features:
Profile
CUSTOMER'S PERSONAL DETAILS
Personal data required to order services and to handle your requests in a correct manner: contacts, payment cards, history of your transactions, etc.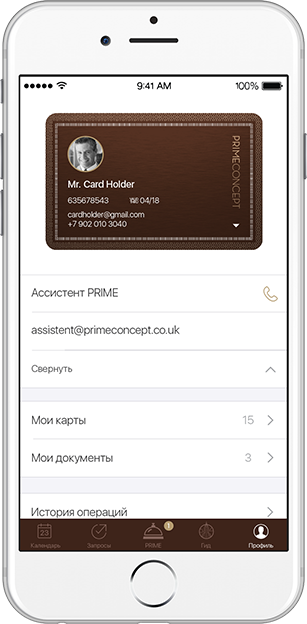 Requests
HISTORY OF ACCESSES
With this tab you will be to follow the status of your services requested by you in PRIME on your phone, through text messages or chat. Upon confirmation, complete information and details of your service will be displayed in Booking tab.
When you purchase an air ticket and check-in for a flight via PRIME, your air ticket and a boarding pass will be automatically attached to your booking.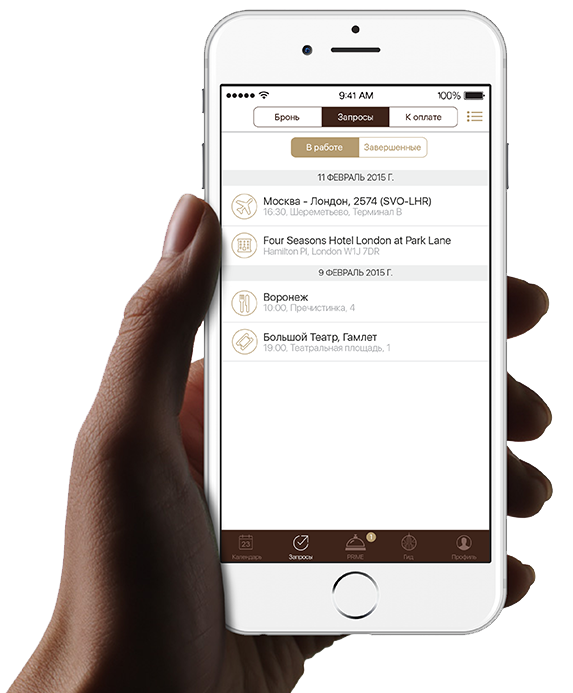 Calendar
IMPORTANT DATES AT FINGERTIPS
This is a convenient way to control services booked by you. Every service will be positioned according to its starting date. All events and requests will be synchronized with your personal calendar. You will be able to share details of your request with your friends or partners via sharing option.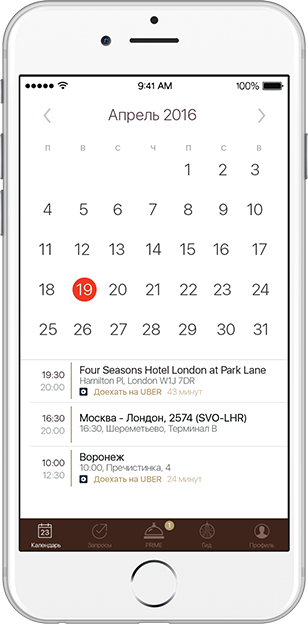 Chat
PRIME IS ALWAYS AVAILABLE
Unlimited information and service support in chat mode. Your entire chat history will be saved and will be immediately delivered to your assistant.
Bot @PrimeConceptBot in Telegram messenger is a clone of chat in PRIME app: messages will be displayed both in Telegram, and in the main PRIME chat.